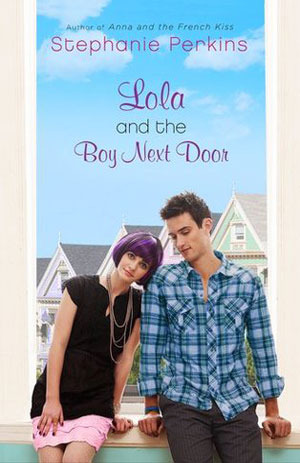 Lola Nolan is a teenage girl with a best friend who loves mysteries, two gay dads, a passion for designing costumes, and a boyfriend. To be more specific, a twenty-two- year-old boyfriend named Max who plays in a band. While her dads understand they cannot stop her from seeing Max, they do everything to make the relationship complicated: a brunch EVERY Sunday, accompanied with interrogations of Max and obvious distaste of his career choice and hourly phone calls when with Max, just to name a few. As Max describes it "one protective father was bad enough, but two? Your dads are gonna be the death of me." After a couple of months of Lola and Max's crazy relationship, Cricket and Calliope Bell return to their lavender house next door, just to complicate Lola's life even more.
The main focus of the Bell family is Calliope and her figure skating training for the Olympics. This training has caused the family to move multiple times, without regards for anyone else. The constant moving had broken both Lola and Cricket's hearts, but neither of them knew how the other felt about them. Only the rest of the world knew. When the Bells moved back, it was obvious Cricket and Lola were still in love, but they were both in denial. After many awkward run-ins, their feelings for each other also became obvious to Max. Because the entire situation was not awkward and chaotic enough, after a Nolan family day trip (plus Cricket Bell), they pulled into their driveway to find Lola's birth mother, and one of her father's sister, sleeping on their front porch, after being evicted, again. Norah's new presence in the Nolan home was uncomfortable for all involved in the situation and definitely did not help Lola's already convoluted life.
After listening to Anna and the French Kiss as an audio book, I decided to do the same with Lola and the Boy Next Door. I enjoy listening to my light-hearted young adult novels because they are usually not too complicated to follow, and I can listen as I do otherwise boring tasks. I think it is necessary to read happy novels once in a while, especially if you usually read dark or depressing novels a lot.
The one thing that annoyed me about this book was Lola's obsession with her boyfriend. The fact that she refers to him as "my boyfriend" makes me want to puke all over her excessively sparkly costumes. However, Lola learned and there is definitely a change in how she felt by the end of the story.
"There is no greater burden than potential."
This was my favorite line in the entire book. While it was talking about Calliope and her figure skating, I find it so applicable to everything in life. So often people put so much pressure on others because they believe that the others are capable of something great, but that pressure can be the reason why they do not accomplish anything great.
Overall, I enjoyed this book and recommend it to anyone who enjoyed Anna and the French Kiss. The appearances of Anna and St. Clair made me laugh so hard, remembering when I read Anna and the French Kiss. I plan on listening to Isla and the Happily Ever After simply in hopes of finding out how Calliope does at the Olympics. Plus, I want to hear what my favorite characters do next.