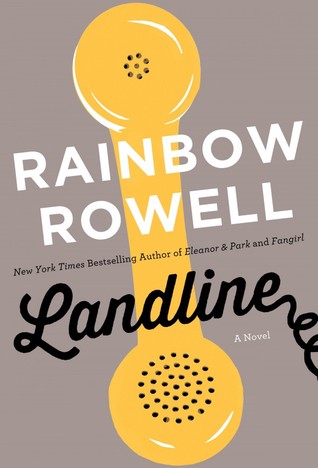 Goodreads Synopsis
Georgie McCool knows her marriage is in trouble; it has been in trouble for a long time. She still loves her husband, Neal, and Neal still loves her, deeply — but that almost seems beside the point now.
Maybe that was always beside the point.
Two days before they're supposed to visit Neal's family in Omaha for Christmas, Georgie tells Neal that she can't go. She's a TV writer, and something's come up on her show; she has to stay in Los Angeles. She knows that Neal will be upset with her — Neal is always a little upset with Georgie — but she doesn't expect him to pack up the kids and go home without her.
When her husband and the kids leave for the airport, Georgie wonders if she's finally done it. If she's ruined everything.
That night, Georgie discovers a way to communicate with Neal in the past. It's not time travel, not exactly, but she feels like she's been given an opportunity to fix her marriage before it starts…
Is that what she's supposed to do?
Or would Georgie and Neal be better off if their marriage never happened?
My Review
It was a couple days before Christmas when Georgie McCool found out that her dreams were so close to coming true. Just one week of powering through writing scripts with her best friend, Seth, and they would have the television show they had been dreaming of since college. The only problem was it would require missing her family trip to Omaha with her husband, Neal, and two daughters, Alice and Numi. With everything she has ever wanted to close, was missing a vacation really a huge sacrifice?
The day Neal and the girls left for Omaha, Georgie knew something was wrong. They had never gone a day without speaking in fifteen years, and suddenly the communication between Georgie and Neal became nonexistent. At least, between Georgie and the Neal she was currently married to. After work the day Neal and the girls left, Georgie went to her mother's house, where she would end up staying until Christmas. Due to a never-ending problem with her iPhone's battery, Georgie turned to the yellow landline in her bedroom to call Neal-the same landline she used to call Neal everyday before they were married. One of the first times she used the landline, the strangest thing happened to her. Georgie believed she heard Neal's dad answer the phone, the same man she knew died in a heart attack a few years before.
It soon became evident to Georgie that she was talking to a Neal from the past, specifically fifteen years earlier-the last few days before they were engaged. Through these conversations, Georgie learned more about her husband than she thought existed-including reasons why their marriage was seeming to fail. Neal had resentments about what Georgie had done to his life, and for the first time they were clear to her.
With this new information, Georgie did not know if her conversations with the old Neal could change the way their lives currently were. Believing that this was happening for a reason, Georgie began analyzing everything she said and how it could change time.
Honestly, I did not love this book. I thought there was a good plot and characters, but I just found it difficult to relate to at this point in my life. Georgie's main struggle in this book was maintaining her job and her family life, which is something I would not know much about.
There were enjoyable aspects of the story, such as Heather, Georgie's sister, and the relationship between Seth and Georgie.
Another thing I did not like about this book was how it ended. I understand books ending without every question answered, but I feel like there were too many questions unanswered at the conclusion of this book. What happened between Georgie and Seth? What happened with the TV show? While what happened between Georgie and Neal can be inferred, I want specifics on what happened after the end of the book.
I still have tons of respect for Rainbow Rowell, in fact I loved Fangirl, (which I will have a review on soon) and plan on reading the rest of her books. I just believe this book was not the best match for me.
What did you think of Landline compared to her other books? Let me know!