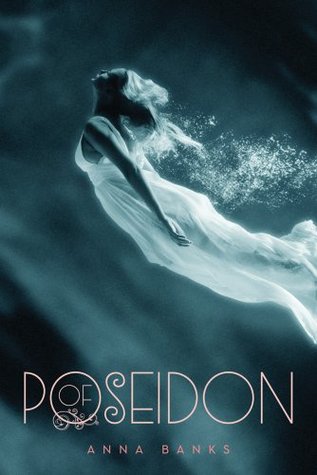 Goodreads Synopsis
Galen is the prince of the Syrena, sent to land to find a girl he's heard can communicate with fish. Emma is on vacation at the beach. When she runs into Galen—literally, ouch!—both teens sense a connection. But it will take several encounters, including a deadly one with a shark, for Galen to be convinced of Emma's gifts. Now, if he can only convince Emma that she holds the key to his kingdom…
Told from both Emma and Galen's points of view, here is a fish-out-of-water story that sparkles with intrigue, humor, and waves of romance.
My Review 
This was my second time reading this book and I absolutely loved it this time as much as I did the first time. I discovered this trilogy when I was looking through the authors who were attending BookCon, and while I did not end up meeting Anna Banks, I am so happy I came across her books,
The book begins was Emma McInotsh and Chloe, two normal teenage best friends, on vacation in Florida. While walking on the beach, Emma runs into Galen, the hottest guy she has ever seen. Flip-flops are just dangerous shoes. After embarrassing herself enough, Chloe joins the conversation to make Emma blush even more.
A few weeks later, Emma was sitting in her first period world history class when the most unexpected person walks in-Galen. After another literal run-in and a concussion, Galen begins to tell Emma that she's different-not human, but Syrena. Syrena are basically mermaids, but that term is considered offensive in the Syrena world. Syrena are a species that have olive skin, dark hair, purple eyes, and oh yeah, they can grow a fin/tail thing in the water. Totally normal. Not only that, but Syrena have bones that are as strong as steel and eat seafood, seafood, and more seafood.
When Emma hears this at first, she thinks she has officially hit her head way too hard, but then weird little things begin to make sense. To help her learn about who she is and her powers, Galen begins spending a lot of time with Emma. So much time, they have to tell her mother that they are dating so she does not get suspicious of all the time they spend together. Of course they really do want to date, but neither of them will tell the other for different reasons.
First of all, Galen cannot date Emma because of his loyalty to the Syrena. If Emma was truly a Syrena, she would get punished for living on land her entire life, and a royal like Galen could not date someone who broke the Syrena rules. Second of all, if any Syrena would date Emma, it would have to be Grom, a third generation, first born royal. This rule is in place because Emma has the gift of Posiedon-she can talk to fish. This rule was put in place to ensure the survival of the Syrena, but how could Emma have the gift only royals are supposed to have if she did not even know that she was Syrena? Third of all, Emma was under the impression that Galen was pretending to date her because of her abilities, not because he actually liked her. This misunderstanding was quite painful to read and I just wanted to play matchmaker and fix everything very early in the story.
I love this book. I love this book. I love this book. Reading this book brought me back to my childhood a little bit because I used to love books about mermaids, and this book reminded me of that.
Emma's growth as a person in this book is one of the reasons I love it so much. In the beginning, Emma is a shy and awkward girl who vicariously lived through her best friend, Chloe. Chloe impacted what she wore, where she went, and who she dated all without Emma being completely aware of it. Emma could not even speak to Galen the first time they met, she needed Chloe. As the book goes on, Emma becomes more comfortable flirting and even hanging out with Galen alone. She learns to stand up for herself in many situations. She no longer lived through Chloe, she lived as Emma.
Another interesting aspect of this book was the points of view. Emma's point of view was first person, but Galen's was third person. I can't exactly describe how that affected the book, but I liked it.
All in all, I would definitely recommend this book to everyone. It was absolutely amazing. I already read the second one also, but I cannot wait to read it again so I can get a review up of is.
Have any of you guys read this book or any others by Anna Banks? What did you think of them?