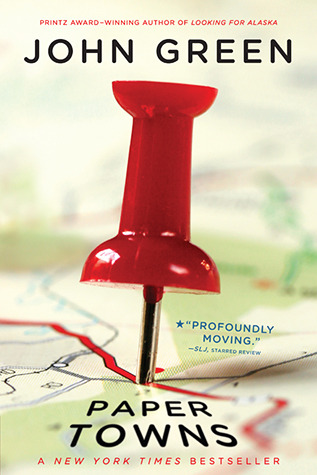 Goodreads Synopsis
Quentin Jacobsen has spent a lifetime loving the magnificently adventurous Margo Roth Spiegelman from afar. So when she cracks open a window and climbs into his life—dressed like a ninja and summoning him for an ingenious campaign of revenge—he follows. After their all-nighter ends, and a new day breaks, Q arrives at school to discover that Margo, always an enigma, has now become a mystery. But Q soon learns that there are clues—and they're for him. Urged down a disconnected path, the closer he gets, the less Q sees the girl he thought he knew…
My Review
I read this book before I created this blog on a road trip. I had a four hour drive and nothing to do, so naturally, I would finish an entire book. At the time, I did not know the movie was coming out, but now that the movie comes out tonight, I thought it would be an appropriate time to review my favorite book. Once I see the movie, I will write a post discussing my feelings about it. I have no doubts that it will be amazing, based on the BookCon Panel, the trailers, and everything else surrounding it.
John Green introduces us to Quentin and Margo Roth Spiegelman with a memory of Q's from when they were nine years old. That was the last time they had spoken.
Q woke up on May 5th of his senior year, ready for another monotonous day, just waiting for graduation. Just a few weeks and he would be off to college. That night, Margo Roth Spiegelman showed up in Q's window because she needed a car. Margo needing a car that night changed Q's life forever.
After a night of revenge on all of Margo's alleged friends who had wronged her, Q had hoped their relationship would change. However, Q was the last one to see Margo before she disappeared-again. Margo's disappearances were common, but after a few days, this one felt different to Q. He felt as if it was his responsibility to find Margo because he was the last one who saw her.
After days of looking for clues in places such as Margo's room and abandoned warehouses, Q still had no idea where she might be. The morning of graduation, with the help of his friends and even some of Margo's friends, Q figured out where Margo was and the most epic road trip ever began.
When people ask me what my favorite book is, I automatically say Paper Towns. A lot of people generalize John Green books to just be sappy, love stories for teenage girls, but they are so much more. His books don't only give you that warm and fuzzy feeling that you get when reading any other teen, romance novel, but a deeper, more complex feeling about life in general. At the beginning of this book, Q reminded me of myself. An anxious teenager, worried about the future, who despises himself for being comfortable with living a normal life. Margo Roth Spiegelman is the person I wish I was. She is popular, yet a huge mystery to everybody. She goes on adventures and haves fun. John Green's writing really makes you analyze the kind of person you are, which is a good and bad thing.
There were so many things in this book that just made you want to pee your pants. For example, Radar's parents own the world's largest collection of black santas. I cannot explain why I find that so funny, but it was just hysterical. The entire road trip also made me lose my breath from intense laughter. From not having clothes on under their graduation gowns to peeing in the beer bottles to the incredibly short stops planned with insane precision, every part of the road trip was entertaining.
All in all, this was a fast paced book that made me laugh, cry, and analyze my life and the world around me. What more could you ask for in a book?