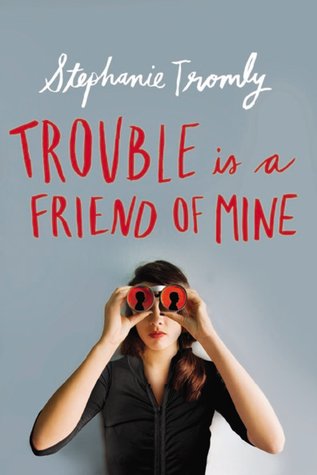 I received an eArc of this book from the publisher via NetGalley in exchange for an honest review. Trouble is a Friend of Mine is expected to be released August 4, 2015.
Goodreads Synopsis
Preparing to survive a typical day of being Digbys friend wasn't that different from preparing to survive the apocalypse.
Her first day not in school (because she cut) in her new hometown that will soon be her old hometown (because she's getting out of Dodge as fast as she can) Zoe meets Digby. Or rather, Digby decides he's going to meet Zoe and get her to help him find missing teenager. Zoe isn't sure how, but Digby—the odd and brilliant and somehow…attractive?—Digby always gets what he wants, including her help on several illegal ventures. Before she knows it, Zoe has vandalized an office complex with fake snow, pretended to buy drugs alongside a handsome football player dressed like the Hulk, had a throw-down with a possible cult, and, oh yeah, saved her new hometown (which might be worth making her permanent hometown after all.)
A mystery where catching the crook isn't the only hook, a romance where the leading man is decidedly unromantic, a story about friendship where they aren't even sure they like each other—Trouble is a Friend of Mine is a YA debut you won't soon forget.
My Review
Zoe is a kid stuck in the middle of a divorce. Her dad has a new trophy wife and is bribing Zoe to go live with him in exchange for tuition at a private high school. Her mom has dragged her into a new house in River Heights, across the street from a religious cult (or so everybody thinks), a HUGE step down from where they used to live. And did I mention some rich girl just got kidnapped from a sleepover in this town?
After ditching her first day of school, a peculiar young man named Digby wearing a black suit rang Zoe's doorbell. After finally getting Digby to leave and hoping to never see him again, they got stuck in the same sessions with the truancy officer, Musgrave.
The thing is, it is difficult to tell Digby you don't want to do something. He talks you into something, sometimes without even talking, and then that something leads to something else and then you're almost dead or arrested. Normal teenage stuff.
Unfortunately, Zoe got caught in one of Digby's traps. It started with a perverted gynecologist, led to getting shot, some drug deals with creepy school employees, and then almost getting blown up.
Along for all of these adventures was Henry, the stereotypical football player with big muscles and a nice face. Henry was friends with Digby, until he couldn't risk getting into trouble because of his college plans. More often than not, Henry was just looking out for Zoe, making sure she did not get in TOO much trouble while hanging with Digby.
From the second the reader meets Digby, it is obvious that there is something peculiar about him besides the way he dresses and acts. He has gone through a lot in his life, but continues to have an amazing personality and shows that he really does care about Zoe and Henry.
All I can say is that I am thrilled I got to read this book. It was one of those books that makes you feel a feeling that you don't know how to describe. The way it made me felt reminded me of Paper Towns by John Green, but the actual story reminded me of All the Bright Places by Jennifer Niven, minus the depression and suicide.
One reason I really liked this book was it stressed friendship and family more than romantic relationships, and that is not common in a lot of YA fiction.
I definitely recommend reading this book as soon as you can.