Welcome to Book Traveling Thursdays – a weekly book meme created by Catia and I. This is the first week of this meme existing and we are both so excited to see how it turns out!
At the beginning of each month there will be a list of weekly themes. After choosing a book that fits the theme, you look at different covers of different editions and write your blog post with the original cover, the covers from your country, your favorite cover, and your least favorite cover. To find out more, you can check out our Goodreads group!
I love participating in weekly memes and I am so excited to be a co-creator of one. I love this community so much and I can only hope that this meme will allow me to get closer to more of you fellow book bloggers.
We decided that a good theme to start with would be a book by a favorite author. My favorite author is Rick Riordan, so I decided to do this week's post with The Lightning Thief. 
Original Cover:

I have seen this cover in many different places, yet I still do not know I feel about it. I like the lightning bolt on the right side of the book, but I do not really like the different creatures coming out of the lightning bolt.
Covers from my Country (United States):
The cover on the left is the edition of this book and the rest of the series that I own. The cover on the right is part of the editions in which the covers make a huge picture when put next to each other. This is my favorite US edition, but I do not own it yet.
Favorite Cover:
The only reason why I love this cover is the shoe on the front. This is the only edition featuring the red flying converse, and I think that is so unique.
Least Favorite: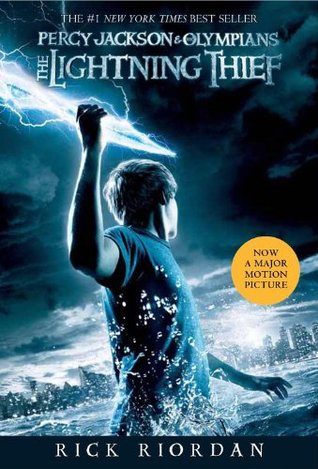 My problem with this cover is that it is associated with the movie and as everyone knows, we do not acknowledge the existence of that movie.
I hope everyone enjoyed this meme and will begin participating! Let me know what you thought of my little book trip around the world and I hope I will get to read about yours!