Welcome to week number two of Book Traveling Thursdays, a weekly meme hosted by Catia and myself.
As I said last week, at the beginning of each month there will be a list of weekly themes. After choosing a book that fits the theme, you look at different covers of different editions and write your blog post with the original cover, the covers from your country, your favorite cover, and your least favorite cover. To find out more, you can check out our Goodreads group!
Today is the August thirteenth and thirteen is definitely an unlucky number, which is why this week's theme is a book with a character who has bad luck. I chose All the Bright Places by Jennifer Niven because Finch was just dealed a rough hand in the game of life. Not only did he get stuck in a family who doesn't care and put in a school where he is always ignored, he struggles immensely with a mental illness.
Original Cover & Cover from my Country (United States):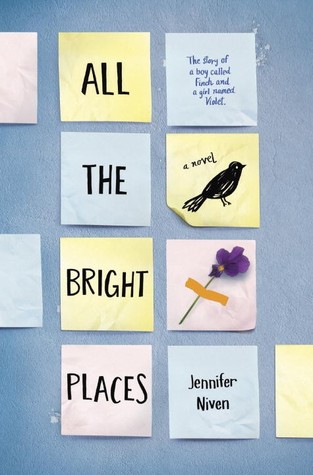 This book was only a few months ago and it was released in the United States first, so the original cover is the one from my country and there are no others from the US yet. Being one of the only covers I have seen for this book, I do not have much to compare it to, but I do like it. I think its simplicity is one of the best things about it.
Favorite Cover:
This is the German cover, expected to be released in December of this year. I like this cover because it matches the mood of the book, but is not too depressing.
Least Favorite Cover:
This is the Portuguese cover and I do not like it at all. First of all, I do not understand why the school tower would be portrayed as building blocks. Second of all, I think Finch appearing to be jumping off the building is too graphic for a cover. While I understand where they were coming from, I do not think it is appropriate. There is just nothing about this cover that I like.
Thanks for checking out this week's Book Traveling Thursdays! I cannot wait to read everybody else's!