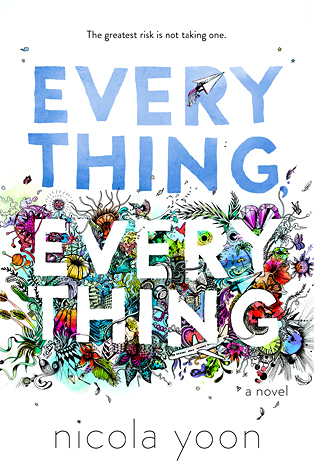 I received an eARC of Everything, Everything via NetGalley in exchange for an honest review.
Goodreads Synopsis
This innovative, heartfelt debut novel tells the story of a girl who's literally allergic to the outside world. When a new family moves in next door, she begins a complicated romance that challenges everything she's ever known. The narrative unfolds via vignettes, diary entries, texts, charts, lists, illustrations, and more.
My disease is as rare as it is famous. Basically, I'm allergic to the world. I don't leave my house, have not left my house in seventeen years. The only people I ever see are my mom and my nurse, Carla.
But then one day, a moving truck arrives next door. I look out my window, and I see him. He's tall, lean and wearing all black—black T-shirt, black jeans, black sneakers, and a black knit cap that covers his hair completely. He catches me looking and stares at me. I stare right back. His name is Olly.
Maybe we can't predict the future, but we can predict some things. For example, I am certainly going to fall in love with Olly. It's almost certainly going to be a disaster.
My Review
There has been so much hype about this book, and let me tell you, it is worth all of the hype.
Madeline Whittier is a seventeen-year-old girl who has not left her house since she was four months old. The only people she sees face-to-face are her mother, her nurse, Carla, and occasionally her architecture teacher, Mr. Waterman.
Maddy had accepted her life. She had two people who cared about her and vacuum sealed books delivered straight to her house. She didn't know anything different, but she couldn't imagine anything much better. Other than having her dad and her brother still alive, of course.
One day Maddy and her nurse Carla were going about their normal routine when they heard a moving truck backing in next door. Through the window Maddy saw a family of four, including an attractive guy her age wearing all black.
After a little bit of writing on adjacent windows, Maddy and Olly begin emailing and IMing. The whole thing was so new to Maddy. Of course she had read about love in her books, but experiencing it, or what she thinks it is, was so different.
After extensive begging from Carla, Olly was allowed to come over for a short visit and sit on the other side of the room, after decontamination of course.
One visit turned into multiple visits until Maddy was sure she was in love. Day after day Maddy would watch Olly and his family through the window whenever she could. Unfortunately, what she saw was a lot of violence and drunkenness from Olly's father.
During one of their many game nights, Maddy and her mom heard even more screaming than usual. They tried to ignore it, but it got to the point that both of them went to the window to watch. However, Maddy could not contain her emotions and ran outside towards Olly. Outside-for the first time in seventeen years.
This was when Maddy's mom was finally became aware of what Maddy and Carla had been doing. This realization provoked many, many, many irrational decisions and increased protectiveness. Maddy's only reaction was to become more rebellious.
I can't say much else about the plot without spoiling a lot, but HOLY PLOT TWIST.
This is honestly one of the best books I have ever read. A staying up until the wee hours of the morning to finish it best book. It was so smile-worthy because of all the cuteness. The whole book I just felt so bad for Maddy and the sad life she had been given, but I couldn't help loving her.
There were so many meaningful messages in this book that I really needed right now. I don't want my life to be a pantomime like Maddy's was for so long. I want to live, even if it is terrifying. I want to love and not be scared of the pain it causes. While my situation is not nearly as extreme as Maddy's, it was relateable in a bizarre way.
This is Nicola Yoon's debut novel and I cannot wait to see what comes from her next. I definitely recommend this book to everybody.
Everything, Everything is scheduled to be released September 1, 2015.